Rin Kagamine Models
Talk

0
1,381pages on
this wiki
Category page | Redirected from Rin Kagamine
This is the list for Rin Kagamine models.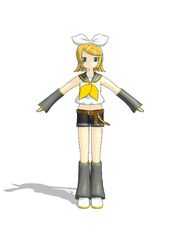 Name

Kagamine Rin (鏡音リン)

Origin

Vocaloid 2
Vocaloid 2; Kagamine Append

Trivia

Her mirror image (often called twin) is Len Kagamine. In December 2010 additional voicebanks called Appends were released.

See also

Vocaloid wiki - Rin Kagamine
Pages in category "Rin Kagamine Models"
The following 81 pages are in this category, out of 81 total.