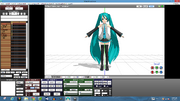 MikuMikuDance (commonly abbreviated to MMD) is a 3D animation tool that puts 3D models into motion, it was created by the Vocaloid Promotion Video Project (VPVP). MikuMikuDance, or MMD for short, allows users to make "motion data" for the model which can be exported and imported into other users' workspace. It also uses Bullet Time Physics for its physical properties. It can be downloaded freely at the official VPVP website.
See: Changelogs
Originally, this tool was used for 3D choreography of Vocaloid characters and promotional videos. It started out as a single-model program with the default Miku model. There was also "RinRinDance" and "LenLenDance".
The most notable changes is version 4 when the English interface is released and version 5 when Bullet Time Physics is implemented.
Technical Information
Edit
See: System Requirements
MikuMikuDance's features are listed below:
NVIDIA 3D Vision
Multiple models
Lip-sync with Vocaloid VSQ file
Read from Kinect sensor
Custom accessories
Export as .avi
Export picture file
The only addon known to the community is MikuMikuEffect. MikuMikuEffect (MME) is a plugin for MikuMiku Dance that allows the use of all kinds of special effects ranging from fog, to fire, to snow, to glowing particles.
A recent download can be found here.
System Requirements for MME can be also found here .
Kinect
Using the MMD by Kinect for Windows
MikuMikuMoving
Edit
In 2012, a successor to MikuMikuDance was released under MoggProject. MikuMikuMoving (abbreviated MMM) has an organized interface and can import MP3 files in comparision to the standard .wav files.
MikuMikuCapture
Edit
ダウンロードサイト / Download Site

Ad blocker interference detected!
Wikia is a free-to-use site that makes money from advertising. We have a modified experience for viewers using ad blockers

Wikia is not accessible if you've made further modifications. Remove the custom ad blocker rule(s) and the page will load as expected.