GUMI Model

Character information:
Chara:
GUMI
Version:
0.1.2.pmx
Model:
Gumina Glassred
Author:
mmdkitsunefox
Technical information:
File:
 ?
Location:
none
Credits:
TDA

yamisweet mmdkitsunefox

Password:
yes
Further information:
Editable:
x (No)
Distributable edit:
x (No)
Displayed:
Deviantart
This is Gumina (GUMI) from the lunacy of duke venomania pv and novel by Mothy-p.
This data was never released after it became a TDA styled model.
The nakao styled version was discontinued.
Model Policy  
Edit
Models are not to be used for videos with scenes of violence, sexual material or slander.
Importing Model into other software other than mikumikudance/mikumikumoving is prohibited
Changing Model into other characters is prohibited
Commercial use of the model is prohibited
Editing/recoloring model is prohibited
Distribution of Model's data is prohibited
Removing clothing, texture or parts to place on a different model is prohibited
Model data can be used only by the MikuMikuDance software
3D printing is prohibited
Versions
Edit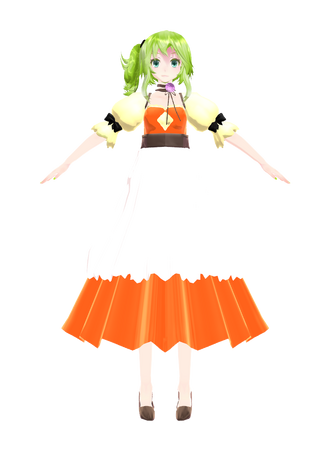 Ad blocker interference detected!
Wikia is a free-to-use site that makes money from advertising. We have a modified experience for viewers using ad blockers

Wikia is not accessible if you've made further modifications. Remove the custom ad blocker rule(s) and the page will load as expected.